Punch 7/8 Round hole thru 1/4″ mild steel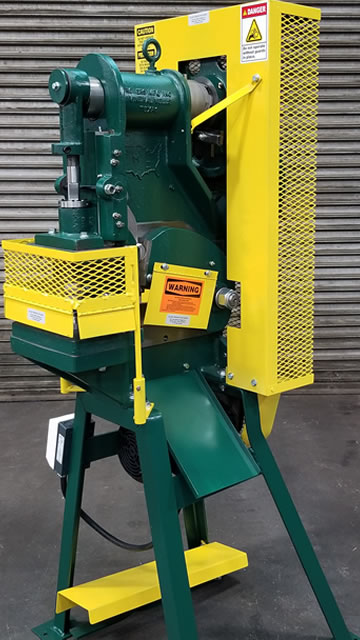 109 SW Martin Luther King JR. St Mineral Wells, Texas 76068
940-325-7806
Monday – Thursday 7:00am to 4:15pm CST | Friday 7:00am to 12:00pm CST
This machine is both a punch and a shear.
Cast-frame – high tensile ductile iron.
Operates on 1 HP, 1750 RPM motor. Three phase or single phase available.
Foot operated, one stroke safety clutch.
Front is conventional press and can be used for punching or forming.
Regular die sets will fit this machine.
Adjustable ram.
Blades are tool steel – Can be re-sharpened and adjusted.
Punch to back of throat – 3″.
Bar hole for lowering punch by hand.
Blade guard, foot lever guard, and gear guard for operators protection.
Approximately 48 strokes per minute.
Accessories Sold Separately
PIPE NOTCHER
SPEAR POINT
COPER
SQUARE TUBING CUTTER
ANGLE IRON NOTCHER
PUNCH OILING SYSTEM